Sponsored by Agia Elpis Philoptochos Society
Holy Trinity Greek Orthodox Cathedral
600 East Blvd, Charlotte, NC 28203
Order Deadline is Sunday, November 17, 2019
PLEASE MAKE ARRANGEMENTS FOR PICK UP ON THE FOLLOWING DATES and TIMES ONLY:

Sunday, Dec 8th, 11:30 am to 1:30 pm
Monday, Dec 9th, 11:00 am to 2:00 pm
Sunday, Dec 15th, 11:30 am to 1:30 pm
BAKED GOODS DESCRIPTIONS
SWEET
Baklava – layers of crispy golden brown phyllo, filled with chopped nuts & garnished with lemon scented syrup
Koulourakia – butter twist cookies
Flogeres Baklava – (chocolate dipped)
Amygdalota – almond crescent cookies

SAVORY
Spanakopita (freezer-to-oven) – spinach, feta cheese & buttered phyllo dough
Tiropitakia – feta cheese roll-ups with phyllo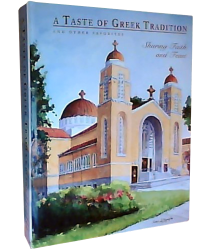 Taste of Greek Traditions Cookbook – An award-winning cookbook compiled by the Ladies Philoptochos Society which includes recipes for many of the specialties featured at the Yiasou Greek Festival.
If you would prefer to order your baked good by mail, please click the button below to download the order form.
Visit our Cathedral and experience the beauty of the Divine Liturgy.